Hospital Fire Protection and Evacuation Assistant (German)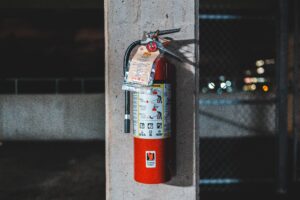 This training is designed for individuals who will be responsible for fire safety and evacuation procedures in their workplace. It covers the legal requirements and regulations set forth by § 10 ArbSchG and ASR A2.2, as well as the basic principles of preventive fire protection and the organization of company fire safety measures. Participants will also learn about the tasks, rights and duties of fire safety and evacuation assistants, and will receive practical training on the use of fire extinguishing systems, emergency planning, and evacuation exercises. With a special focus on healthcare facilities, this training is the bext choice to train fire protection and evacuations assistants for hospitals.
The course will be held at the Hospital Engineering Academy, located in the heart of Hamburg, Germany. The location is conveniently situated near the harbor, the old town, and the most famous shopping districts, making it the perfect location to extend your stay with a weekend getaway.
The following topics will be covered in the training for fire safety and evacuation assistants:
Legal foundations (§ 10 ArbSchG, ASR A2.2 "Measures against Fires", DGUV regulation 1, DGUV information 205-023 (BGI/GUV-I 5182))
Basics of preventive fire protection
Company fire safety organization
Tasks, rights and duties of fire safety/evacuation assistants
Participation in company fire safety management
Function and operation of fire extinguishing systems
Recognition of fire hazards
Safety measures for hot work (welding, cutting, soldering)
Behavior in case of fire
Alarm and emergency plans
Escape and rescue plans
Organization at assembly points
Support in planning, preparation and execution of evacuation exercises
Ensuring independent evacuation of employees
Practical exercises (fire extinguishing exercises)
Practical demonstrations
Special situations in healthcare facilities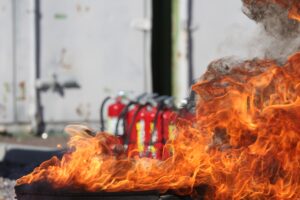 This course is designed for employees who are to be responsible for fire safety in their healthcare facility or company can undergo training to become fire safety and evacuation assistants. Any personel responsible for fire protection and evacuations, caretakers and technical personnel, as well as safety professionals and officers, can also refresh and deepen their knowledge through this seminar. This course has a special focus the fire protection and evacuations in healthcare facilities.
The course fee  includes a copy of the course materials, as well as coffee/tea breaks during the training. Participants who successfully complete the course will receive a recoginised certificate after completing an exam. All our trainers for this training are certified by TÜV, the German Technical Inspection Association.
Important:
According to ASR A2.2, training for fire safety and evacuation assistants must be repeated every three to five years and whenever there are changes in the company. This includes, for example, changes to the fire safety regulations, fire incidents in the workplace, restructuring and employee turnover, or new production processes with altered fire hazards.
Key Facts:
Duration: June 16, 2023
Location: Hamburg, Germany
Duration: 1/2 day
Target group: One to two persons shall be trained as fire and evacuation assistants per department.
Course language: German
Course material language: German
Fee: 249,00 € (incl. 19 % VAT)
Included: Course materials and certificat
Catering: lunch and coffee/tea breaks